Plant Hire
---
Wells Services Norfolk Ltd can provide you with a wide range of plant and equipment. We offer a range of plant and equipment from wacker plates to 13 tonne excavators.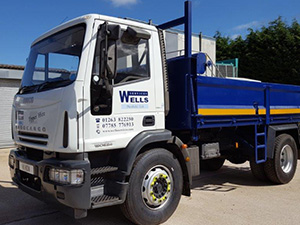 Our plant hire fleet is comprised of the latest modern equipment, with most items being purchased by us from new. The quality and reliability of our fleet drastically reduces plant down-time on client's sites, thus minimising the effect on profitability.
We can also provide you with skilled plant operators, all of whom hold CITB approved certificates.
Our policy of constant investment to maintain and expand our hire fleet is our commitment to our clients that we will continue to provide efficient fully operational plant and equipment direct to their site. Wells Services acknowledge the importance of ensuring hire equipment arrives on site as per our customer's request.
Our philosophy is to ensure that our customers have their plant and equipment ready when they want it, where they want it, throughout the East Anglia and sometimes beyond.
We also offer a haulage service to our customers who require their own equipment to be moved.


Site clearance, muck away or hard landscaping?–Wells Services can be relied upon to deliver on time and in a professional manner
In addition, we can also provide a variety of different aggregates including:
Sand
Recycled Crushed Concrete
Type 1 Granite & Limestone
Shingle
Screened Topsoil
Other materials may be available upon request.
Wells Services cover North Norfolk but will provide services beyond this should it be needed. Please call on 01263 822250 for a quote today.
Soil Grader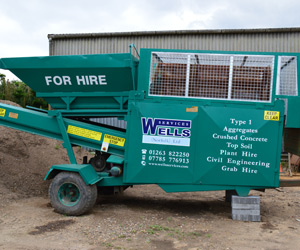 The Ultra Plant International Trommel Screen provides the robust, compact high output solution to screening a full range of applications and materials, including Skip Waste, Compost, Soils, Wood chip, Stone and more. The units boasts a strong Deutz 40 HP Diesel engine, a 2.5 tonne conveyor feed hopper, a 1.5m Diameter x 2.5m Length Trommel drum, fines conveyor and robust single axle chassis. Production rates of up to 60 tph.
Specifications include:

• 2.5 Tonne variable speed feed hopper (900mm wide belt)
• 1.5m Diameter x 2.5m Length variable speed Trommel drum
• 2.4m Fines belt stockpile (1200mm wide belt)
• Electric start panel with warning lights
• Emergency stops.